Wind hybrid project for SNIM iron ore mine in Mauritania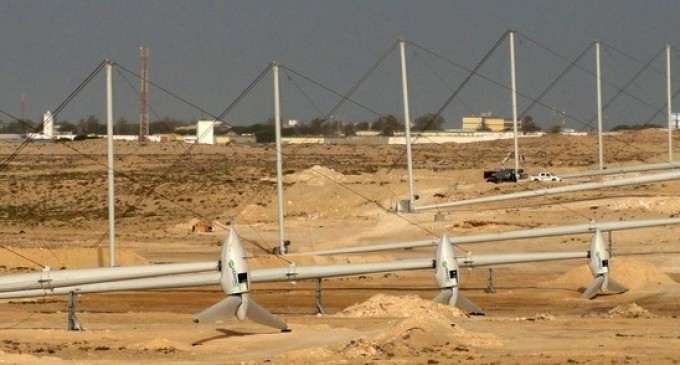 (to view the video presentation associated with this post fill in the form below)
Energy is a major cost component for miners, especially for mines located off-grid, and in areas of erratic power supply and weak power infrastructure.
Combining wind and/or solar with existing fossil generating plants (e.g gensets) can help to economically meet the power needs of mines while reducing the consumption of fossil fuels and carbon emissions. While integrating renewables to existing grid can offer significant benefits, each project will require the right technology and system design in order to achieve the right level of security and ultimately the best return on investment for the Mine. At the center of these challenges, grid stability must drive the design of hybrid systems (i.e Wind/solar and gensets) to ensure their successful operation over time.
The SNIM Company (Société Nationale Industrielle et Minieres) operates iron ore mines in Zouerate, region of Tiris in Mauritania. More than 12 Mt of ore per year is transported by train from the mines to Nouadhibou harbour to be loaded and exported by boat. SNIM is the 2nd largest producer of iron-ore in Africa employing about 10,000 people.
In order to reduce the carbon footprint and energy production costs,  SNIM issued an EPC tender in 2010 for the construction  of a 5 MW state-of-the-art  wind farm in Nouadhibou.
SNIM is one of the very few mining companies in Africa that has taken the bold step of integrating renewables to existing grid infrastructure.
Since 2000, electricity demand in Mauritania has been growing more than 10% per year on average, driven primarily by increasing demand from mining operations, and other industrial activities.
Although SOMELEC, the National utility, is presently implementing several initiatives and projects, it is unable to meet the demand, hence putting a responsibility on several mines to operate their own mini grids and power plants.
 Site Conditions
At the heart of the EPC tender issued by SNIM was the need to reduce energy cost while at the same time ensuring grid stability. Also important was the need to select a turnkey partner with track record in delivering hybrid projects in harsh conditions, like those present in the Zouarate region of Mauritania where the SNIM mine operates.  The region has a peculiar temperate condition which could make construction activities very difficult to manage, considering the hard and dusty climate, as well as accessibility challenges to the project site.
 The existing grid was powered by a 16 MW diesel plant equipped with 4 diesel gensets, feeding a 5.5 kV grid. The energy is used to power motors for the ore conveyors and crushers (with more than 20 loads ranging from 200KW-600KW).
The Vergnet Group was awarded the contract due to the suitability of proposed solution to the specific conditions on site. At bid time, Vergnet Group already had a long standing experience in Wind–Diesel integration with 11 wind farms (producing on small diesel grids). Vergnet also had experience working with the Mining industry having worked on the El-Toqui Wind Farm in Chile in 2010. The El-Toqui Wind farm powers the El-Toqui zinc mine owned by Nyrstar.
Vergnet proposed a full study to assess and guarantee the achievable wind power penetration according to wind profile, grid load cycles and diesel gensets characteristics while preserving:
Safety and security of goods and persons
The  main  goal of the  study  was to define the  maximum  penetration rate  so that  gird parameters, mainly  voltage  and  frequency shifts,  remain  compliant with standards and client needs during  normal  and  unforeseen transient events.   Essentially, the wind farm must not disturb the diesel power plant in both transient and steady states.
The final project consisted of 16 Wind turbines (Model GEV MP-C), all necessary connections and electrical installations, and Vergnet's Hybrid Controller called Hybrid Wizard which intelligently integrates Wind or Solar to existing diesel gensets while ensuring high penetrations and assuring grid stability (this reduces fuel consumption and carbon emissions by the gensets).
Despite  rough site conditions  and the  usual construction  complications,  the  building  of the  Nouadhibou  wind farm was for Vergnet a "standard" project  and was completed successfully within the stipulated project time.
The weather conditions in the region made careful choice of turbine technology critical to the eventual success of the project over the lifecycle. The environment is extremely corrosive, and the wind turbines blades could suffer greatly if a wrong choice of turbine technology is made. The Vergnet's turbines are well adapted to the peculiarities of the environment, making it possible to lower and re-erect the turbines whenever necessary to adjust the blades regularly in order to assure optimal production always. The easy to erect technology also makes maintenance of the turbines must easier and a lot cheaper.
Vergnet provides maintenance over the life of the plant, and provides continuous support for the operational team, to assure continuous production to meet and exceed targets set during the planning phase. Miners therefore can focus on their core-business while benefitting from lower energy costs.
The figures:
Wind farm output: 19 GW h/year
Fuel savings: 4800 t/year
Pollution avoided (C O2, N Ox, SO2): 11 500 t/year
This case is a good example of combining  wind and diesel power leading to large fuel savings. This success was possible thanks to the will of the SNIM company to develop wind power with maximum wind penetration and Vergnet's on wind–diesel systems.
During the Energy and Mines Conference in Johannesburg in July 2015, Marc Rivard (Sales Director, Vergnet Group) and Oumkelthoum Moustapha (Project Manager, Somelec) delivered a presentation, in which the Nouadhibou Hybrid Plant was used as a case study. During this presentation, Marc Rivard identified key points that led to the success of the project which decision makes should watch out for when implementing renewables for mining projects. Some of these points are itemized below:
Always keep grid stability as the driver for the system requirements

Consumption: minimum and maximum loads, grid parameters
Possibility of performing grid measurements, identify weak points, etc.

Technology choice must be the result of thorough feasibility studies, not an apriori choice

Renewable resource assessment must be carried out.
Ensure that choice of technology fits the local situation.

Fix reasonable targets for penetration rates and have a step by step approach

Grid stability is very important, and must be at the heart of the project
Possibility to improve the system and targets (taking into consideration that technology is evolving fast)

Project a flexible system, able to adapt to the grid evolutions

Possible evolutions of the consumption
Integration in the plans for development of the infrastructures of the territory (local content, knowledge transfer, community involvement, etc).

Take Operations & Maintenance into account from the very beginning of the project

Choices and targets must fit to the local capability and infrastructures
If know how is not already present, include a capability building programme
The experience acquired on this site has led to further improvements on simulation and power plant integration that Vergnet Group offers today to its customers worldwide, including Mining clients.
This video presentation can be viewed by filling in the form below.
For more information about this publication, our technological solutions, hybrid offerings, and other questions please contact John Okoro, Mining and Metals Desk, Vergnet Group at j.okoro@vergnet.fr or +33(0)238524966.
Protected video content
Please fill out the form below to access this content.
You will only be required to enter this information once, after which you will be given access to all protected website content.