Green Energy Boom Helps Chile Contain Surging Power Prices
Via: Bloomberg
Chile's solar industry is proving a win win. Not only has it cut emissions of the global warming gas carbon dioxide, but it has also helped slash some of the highest electricity costs in Latin America. Those benefits have come at no expense to the government, which refused to offer any of the subsidies that drained resources in countries such as Spain and Japan. Looking ahead, the industry could even turn into a major export earner.
The graph below shows the generating capacity of solar panels installed each year in Chile since 2012 and the estimate for this year.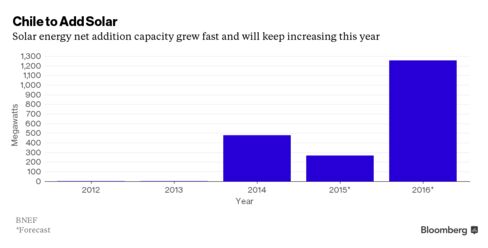 And the chart below gives the price of electricity on the spot market.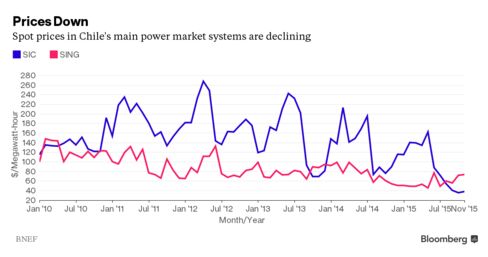 At an auction of electricity supply contracts in October, three solar parks offered distributors energy at $65 to $68 per megawatt-hour, while coal power was offered at $85 megawatt-hour, according to a report by Deutsche Bank. Two wind farms bid at $79 megawatt-hour. Unsurprisingly, the contracts went to renewable energy suppliers.
Just seven years earlier it was a very different story. At an auction in 2008, there were no bids from solar or wind companies and distributors paid an average price of $104.3 megawatt-hour. A market that was dominated by a handful of companies for decades, saw bids from 31 at the October 2015 auction.
In the Shade
Chile's solar industry is putting the rest of the continent in the shade. The graph below shows installed solar capacity in Chile compared with other Latin American nations.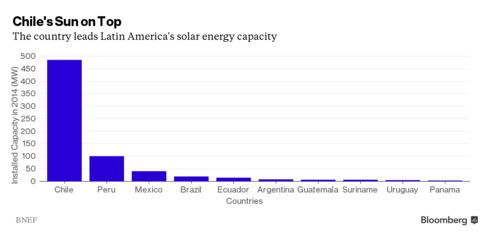 The reason for that turnaround lies in the sun baked northern desert of the Atacama, where some towns have had almost no rain in living memory. It is a natural advantage that Chile will continue to exploit. As of November last year, the Energy Minister had registered solar projects with an additional capacity of 1.3 gigawatts.
The government is now looking into the expansion of the electricity grid, allowing the power to be exported to neighbors such Argentina, Energy Minister Maximo Pacheco says.
"We feel very proud to be a country that is leading the energetic transition in Latin America and to have reached this renewable boom without fiscal subsidies," Pacheco told Bloomberg on Dec. 15.